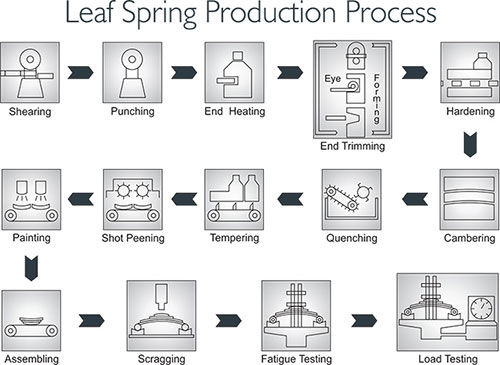 Lamina introduces INDIA'S FIRST ROBOT CONTROLLED HEAT LINE IN LEAF SPRING INDUSTRY
Advantages are as follows:
Consistent quality springs in terms of even hardness and shape.
No cold working, Side bend removal after Heat Treatment.
Many references can be done at the same time since there are 6 stations.
No manual intervention because of the Robot's, so every leaf is quenched with least amount of time in air and hence consistent hardness.
Huge quantity of quench oil of about 95,000 litres and a powerful cooling system would ensure that the temperature of oil bath is maintained at 60-65 Degree centigrade.
LPG Fired furnaces with the automatic control of the different zones in furnaces to ensure good surface finish without any overheating of the leaves.
Heavy Duty column type quenching station with 3 cylinders ensures cambering all kinds of leafs especially thicker parabolic leaves with Centre Flatness.
Quenching Station (Heavy Duty - 3 Nos) with swing would ensure proper agitation of the quench oil and would ensure uniform hardness in the entire leaf (same hardness in the centre as will in the ends.)
Water Shower after tempering is also used to further toughen the Heat Treated Leaf.
Four impeller fully automatic High Stress Shot Peening machine, to ensure that all the parabolic springs are stress peened, which substantially increases the life of the parabolic spring.
Induction End Heating Machine to ensure optimal heating of the spring for End processes and avoid overheating of the leaves.